Lowe's was out, found for 49.88 at walmart. Just ordered


https://www.walmart.com/ip/Lenovo-Smart-Clock-2-with-Wireless-Charging-Dock-Heather-Grey/621777764
If purchasing be sure to choose the GRAY model, if available. Apparently the BLUE ones have an issue with the daylight sensor used for auto-brightness (as mentioned in this video.)
Also note the initial setup requires a Google account to get the device synced and configured, as well as an Android smartphone or tablet running the Google Home app, so you can enable the "Screen Reader" Accessibility setting that is required, if only for the initial setup. Unfortunately the latest version of the Google Home app for iPhone no longer includes this setting.
I did get the Gray one. And I have the other prerequisites. Thanks for noting them.
Just ordered! This will be perfect for watching the news while I work without running my phone battery out.
So you wouldn't be able to use it if you don't have an Android phone?
One of the initial setup steps requires turning on the Screen Reader (Accessibility) feature, temporarily, in order to unlock the device. This video shows the steps... unfortunately rather sloppily, but it's still easy enough to follow: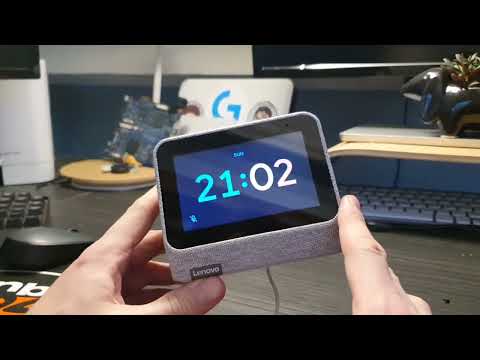 Apparently the latest version of the Google Home app for iOS does NOT include this functionality anymore, so that's why I used an old Android smartphone I had sitting in a drawer. This poster jailbroke an iPhone and sideloaded an older version of the app for this, but that seems like more of a hassle than just getting or borrowing an old Android device from someone. You only need it for a few minutes for the initial setup. Once it's all set up, there's a new home screen from a launcher of your choosing, a web browser, an APK install utility, and shortcuts to whatever apps you're able to try. All further maintenance and configuration can be done directly on the Lenovo touchscreen itself.
This device also works well with the YouTube Vanced app, I'm logged into my YT account and watching livestreams and my own subscriptions. The videos look great and the interface is snappy and responsive. Same with Pocket Casts for podcasts, audio and video.
I've also been playing around with Apple Music, Spotify, TuneIn and SiriusXM, all of which work too, after fiddling with an "Rotation / Orientation Manager" utility so they're forced to launch in landscape mode instead of portrait. This part seems a bit finicky but I'm sure I'll get it figured out.
Really cool find..
If only it had an hdmi port so i could plug my Firestick with channels sideloaded into it.
Then i could watch inception on channels….on a lenovo alarm clock, and then have it wake me up - only to find that i was still watching channels on my firestick plugged into the lenovo
And then another alarm on my iphone wakes me up again and i realize that im still watching channels on my ipad
Fade to black……
No HDMI port unfortunately. Picture in Picture mode unlikely here too, lol!
But it does have a USB port on the back, for charging other devices.
You may however be interested in the TinyTV, previously discussed here, which has USB-C input:
THIS is really cool!
I only have the 'Essential" version of this clock though...cause i wanted a smart clock in my livign room tv stand that i never had to fiddle with again to set the time.
Yep! So much to learn over there, it's amazing what's been discovered.
And gotta love Channels DVR! This tiny yet largely dismissed device is running a MediaTek MT8167S 1.50 GHz processor, with 1 GB of RAM and Android Things which Google killed off 2 years ago. Yet Channels, with all of its app navigation and video playback, is running perfectly. I didn't expect this level of performance on such a small and inexpensive device.
It has a very good speaker too. These audio apps are logged in, and streaming fine. I couldn't get SoundCloud or iHeartRadio working, they rely on some low-level Google stuff that this device doesn't have (yet?) I'm good with these 6 options though! TuneIn Radio even has a "Car Mode" and that view works very well on this small screen.
There are physical buttons on the top of the clock for "volume up" and "volume down." I used an app called Button Remapper to also assign long presses of these buttons for "back" and "home." And another app, called "Set Orientation," to ensure all apps open in landscape mode.
This smart clock has way more potential than Lenovo sold it for. Best $20 I've spent in awhile!
I even got Kodi Nexus to install on this device, listening to music library now!
Though the screen is rather small to navigate with, it works.
Installed Netflix too and a white noise / ambient sound generator, Noice. Very multipurpose! Setting up another Lenovo for a second room now.
Thanks for this post. Picked one up and set it up. The Youtube Video was more helpful for me than the written instructions (pretty sure I had an undiagnosed learning deficiency as a child, I do better with observing than reading).
Wish the screen was 1-2 inches bigger, but the sound is great for this size unit so I can have the TV going in the "background" and not tie up my personal PC in the office.
Thanks OP for sharing.
I'm calling this the best bargain in tech right now. Considering how versatile this device truly is, the price is astonishingly low. It'd be a good deal at 3x the cost. I just set up another, and will be gifting one to a friend.
Another spot that benefits from a cute little touchscreen / smart alarm clock / music player / TV? The bathroom!

I just went the refurb route - good-ish price though...