I'm also seeing Channels iOS eating battery in the background on my iPhone unless I force quit the app.

Can you post the battery usage?
Just noticed it recently, but it's happened a few times. Open it to manage a few recordings and later I notice my battery lower than usual and Channels is up near the top of the list.
Is there a means to collect log data next time I see the drain?
Curious if both of you have your device set to allow the Channels app to use Backgroung App Refresh?
I usually turn that off for apps I don't think need to be doing anything while in the background.
Please go to Settings -> Support -> Submit Diagnostic Logs from your device and let us know when it's been submitted so we can have a better idea of what was going on.
Sure. I reinstalled the app this morning but I'll submit logs and update you as soon as I see the issue again.
The only thing we use Background App Refresh for is cleaning up our local caches once a day.
The Background Activity (which is separate from Background App Refresh) should only be happening in the case that you had an in-progress download running when you left the app. If it's happening for other reasons we'll want to figure out why and fix it.
After reinstalling the app, during normal usage, I haven't seen this background activity issue crop up again. I'll update with diagnostics if/when I see it again.
I will say I was watching shows out of home on my iPad this weekend, and the battery seemed to drain much more quickly than normal. I'll see if I can send the logs.
More than normally using Channels? Or normal iPad use? What source was the video you were watching? Was it OTA from an HDHomeRun or TVE?
OTA is mpeg2 video and has to be decoded on the CPU, so it's usual that it uses a bit more battery than hardware accelerated h.264 video decoding of almost every other video source.
more than normal ipad use. The videos were from TVE.
Please go to Settings -> Support -> Submit Diagnostic Logs from your device and let us know when it's been submitted so we can have a better idea of what was going on.
Hello @eric
Ive submitted diagnostics from both my iphone and ipad.
I had just reset my ipad and did a full recharge before i saw your request. I did not power cycle the iphone yet.
Hope this helps.
edit:
after the power cycle on my ipad, there was normal battery drain from 6pm to 6am, and channels took up 1% over that period. Channels had not been opened on my ipad prior to 6am after the reboot last night.
At 6am this morning to test the battery drain, all I did was open channels, schedule a season pass, and play a pbs station.
Then i went away and left the ipad idle, and here it is 1:15pm and it appears channels has jumped up to 10% activity, and is helping drain the battery when the device is idle.
Here is a screenshot:
Tonight i will do the same experement, but this time i will only open the app but not do any activity other than look at the guide, and see if that contributes to the backround activity.
Btw. I have background app refresh turned off on my ipad.
I also have this issue on iOS. I submitted diagnostics but the battery drained to zero overnight. Unsure if the diagnostics will show anything.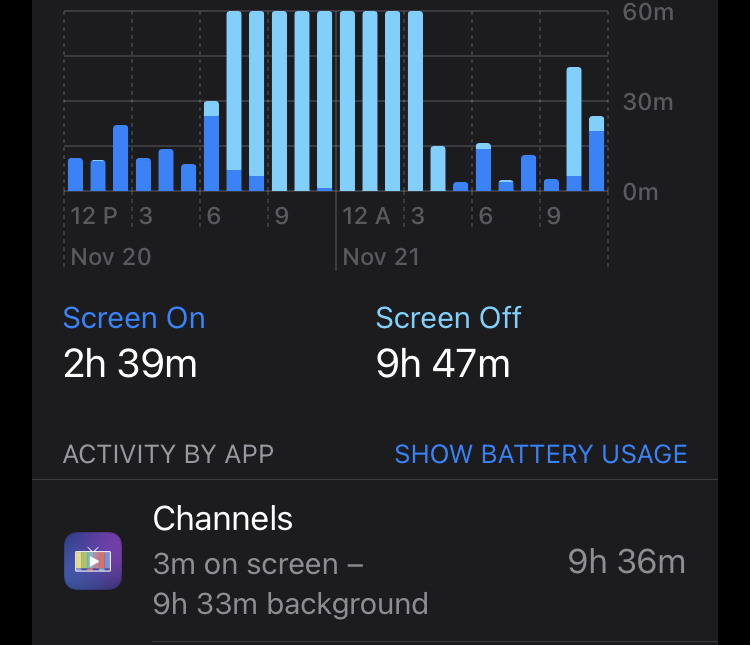 Could you try the latest TestFlight beta to see if it fixes this?
You can join our TestFlight beta program by visiting Channels — Beta Program from an iPhone or iPad and then downloading the TestFlight app on your Apple TV.
I downloaded it yesterday and have yet to see the battery drain using the beta iOS Channels app on my iPhone.
Great! We'll get these fixes into a new release soon.