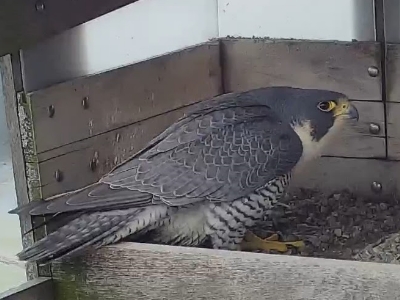 I just wanted to share my favorite livestream from the Audubon Society of Rhode Island's Peregrine Falcon cam. You can learn all about it here:
I love watching these guys all season from laying their eggs through the kids growing up and leaving the nest!
Thanks to the Devs, I've been able to make this an easily accessible station in Channels. Also thanks to many other questions and guidance on the board here to help me figure out how to do what I wanted with a custom station. Here's the code if you want to add it to your lineup, too:
#EXTINF:-1 channel-id="[YOUR ID]" tvg-chno="[YOUR CHANNEL NUMBER]" tvg-id="" tvg-name="" tvg-language="" tvg-logo="/dvr/uploads/[YOUR IMAGE NUMBER]/content" tvg-country="US" tvg-url="" group-title="Animals",Providence Peregrine Live Stream
https://asori-hls.streamguys1.com/asori/live-500/chunks.m3u8

The image at the top of the post is a 4x3 one so that it can be used as the station logo.
Enjoy!